SAINT PARTS is a company that has been established in 2013. The company`s purpose is to supply used spare parts to the world.
We dismantle more than 500 vehicles a month and export high quality spare parts within Japan and around the world.
Before dismantling, we have the vehicles, the engines and the functional parts thoroughly checked and export only the parts which are in good condition.
Our company conducts everything from taking out the parts to selling them, thus we have the advantage of being able to check the mileage of our engines first hand. Therefore our customers can buy our products with confidence, as opposed to parts re-exported in the Middle East.
Our Business Model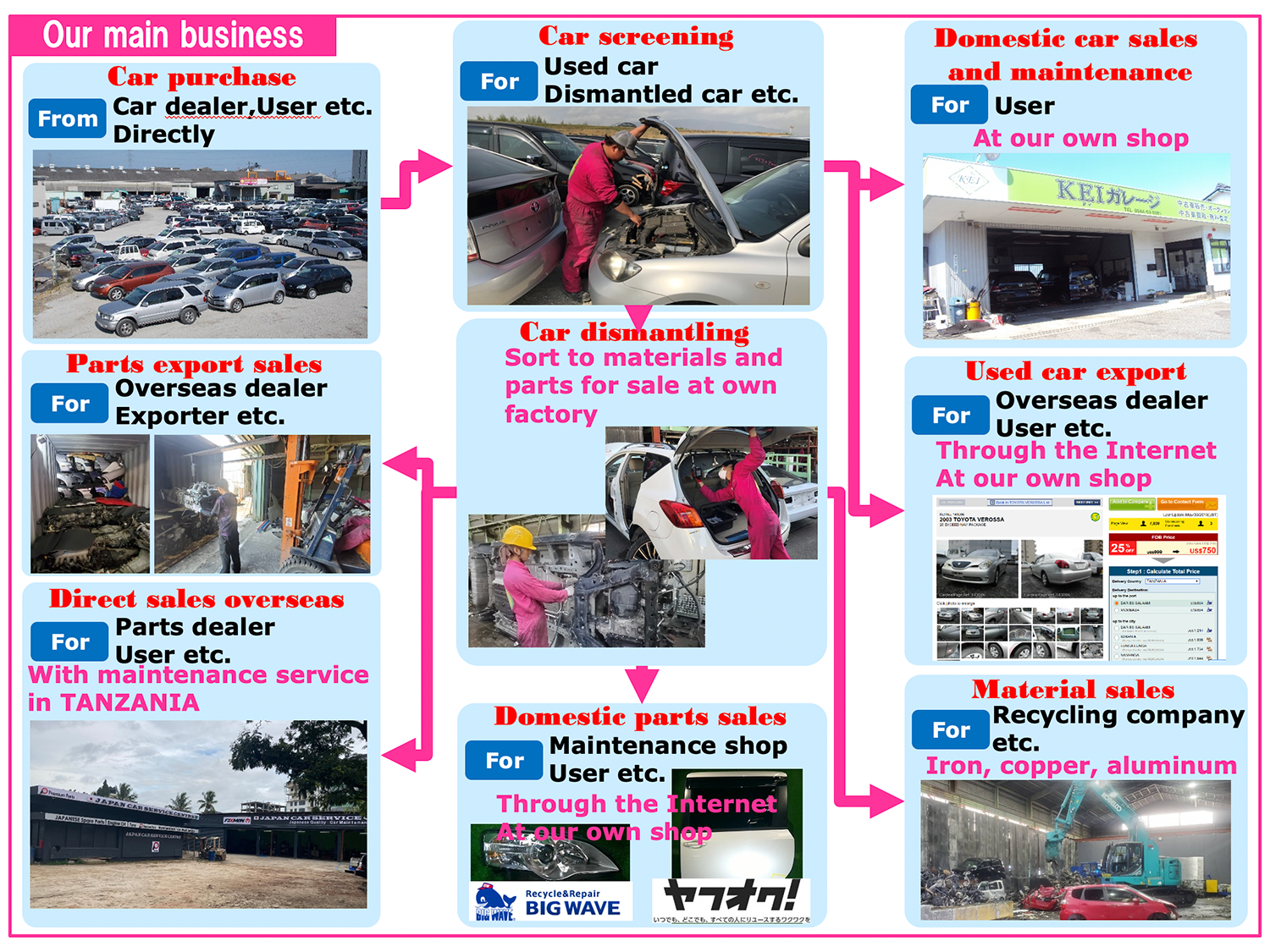 Parts production and Export

Car warehousing

Car stock

Check each cars

Check each engine before dismantled

Instructions for parts to be removed to the factory

Taking parts out

Taking engines out

Scrap processing using heavy machinery

Scrap shipping

Parts stock for export

Making the container for export

Parts container shipping
SAINT PARTS branched out to TANZANIA in 2015 and started selling used spare parts in Ilala.
In 2018 we started Automobile Maintenance Services aiming to be a company that can provide total services related to automobiles.
Our Tanzania Branch
Address(Factory) : Syaurimoyo St. Ilala, Dar Es Salaam, Tanzania
If you would like to purchase any spare parts from the Container, please make
inquiries
here.
Company profile
Company name
SAINT PARTS Co., Ltd.
Address(Factory)
1025-25 Honjyo, Ohno-cho, Ibi-gun, Gifu, Japan
TEL +81 585-35-5800
FAX +81 585-35-5801
E-mail export@saintparts.co.jp
Address (Head office)
2-1 Desuka, Funabashi-cho, Hashima-city, Gifu, Japan